Back before digital cameras I took lots of pictures with a variety of film cameras. Mostly 35 mm and 120. I have hundreds of negatives, most of them never printed. On April 28, 1984 we were visiting my parents on Cape Cod and happened to drive by the Hyannis airport when I did a double take – I thought I saw a Mustang parked across the chain link fence from the parking lot. It had been ten years or so since the last time I had seen one, so I pulled in and parked pretty close. I had my Yashica D twin lens reflex with me, loaded with B&W negative film and shot a roll.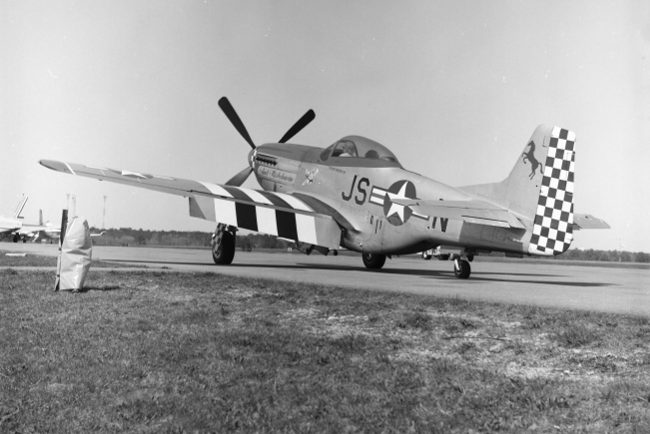 I couldn't get the angle I would have liked to get the pictures of it and I had to shoot through the fence, but I did get some reasonable shots.
Since I recently bought a scanner that can do a reasonable job scanning negatives and slides I've been going through my negatives. I found the roll with the Mustang photos from 1984. I scanned them in and am posting two here. The plane has "Ain't Misbehavin" painted on the nose, so I decided to do a Google search to see if I could find a reference to it. I was surprised, when I had "p-51 Ain't" in the search box it showed "p-51 Ain't Misbehavin" as a suggested completion. There were many references to it, and in one of them there was a history of it's owners. In 1984 Robert Ferguson of Wellesley Mass was listed as the owner. None of the pictures I saw had the plane painted the way I saw it, but the horse on the vertical fin was there in many of them and "CDR. 'Bob' Ferguson U.S.N." was painted under the cockpit, so I know it was the same plane.
He's in the cockpit in picture above but it's before he cranked it up. The picture below is after he'd started the engine. It was a thrill to hear the Merlin start and to watch him taxi out and take off.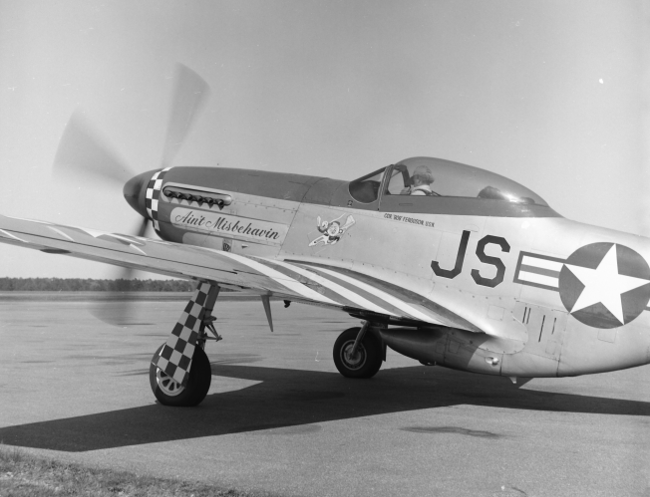 For years I had used a Canoscan 1250, but after at least a dozen years it was having some problems and there was not software to run it on anything newer than Windows XP. When Windows XP support went away I figured I'd better update to 7. That made the old scanner useless so I got rid of it.
I put off getting a new scanner for a while because I hesitated to spend the money, and I wanted one that would do a reasonable job on negatives and slides. I read a lot of reviews and specs and decided on the Canon CanoScan 9000F MKII Color Image Scanner
. I've only had it for a couple weeks but am happy with it so far. I'll have more to say about it after I've used it more. The pictures above are from negative scans made with my new scanner and I used Gimp to scale them down to about 6% of the scanned resolution since the scanned images were 110 megabyte TIFs.